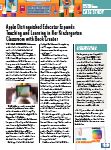 What did one kindergarten teacher do when she couldn't find enough good non-fiction books for her young students? She had them create their own.
In this revealing case study,
find out how one elementary school is utilizing an easy to use and fun to operate app that allows both students and teachers to create books to further instruction.
Learn more
about a creative and exciting way students can create their own eBooks by adding text, images, video, audio and narration to tell their story.
Intuitive and easy to use

Works seamlessly with other apps

Ability to export books as a PDF, upload as a video, or print
Sponsored by: Red Jumper Studio